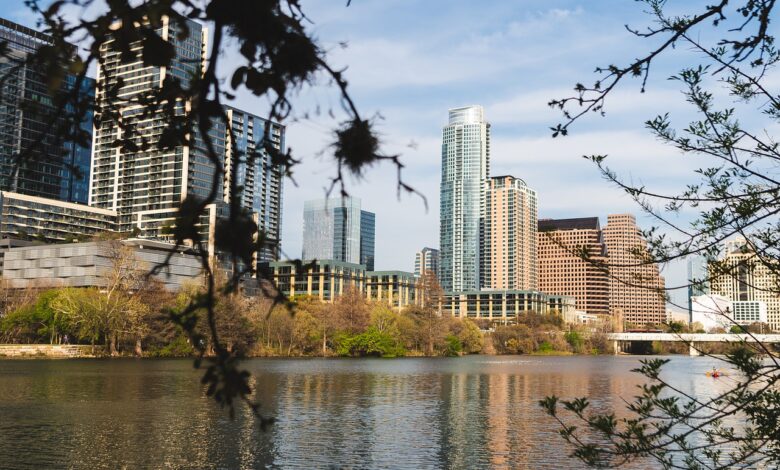 Austin Motel this family owned and operated motel.
If you are bummed out and bored with cookie cutter accommodations, this motel provides an excellent alternative at a very affordable price.
Originally built in 1938, it has been completely updated and renovated.
Today, it's like stepping back in time to a bygone era. Comfortable, but not pretentious. Beautiful views, excellent surroundings, down home service and genuine friendliness.
What can you say about a motel that does not have a computerized reservation service?
First, you can only reserve two rooms per person. If you reserve Saturday, you must reserve Friday as well. Check the current cancellation policy. Cheap Downtown Austin Hotel
Your choice of rooms include the least expensive of all downtown Austin hotels. To a spacious comfortable well appointed suite.
The less expensive rooms are small. Old time motel small. The executive suites aren't on a level with Austin luxury hotels but they don't cost nearly as much.
Their Executive Suites offer a great value you don't see today in Austin downtown hotels. It really is a bargain.
Location is in the hip and trendy South Congress (SoCo) area. You get a great view of the State Capitol and Ann Richards Congress Avenue Bridge (where our summer resident bat population emerges at dusk everyday).
Surrounded by eclectic shopping and unique restaurants. The legendary Continental Club is located across the street.
The large, inviting, kidney shaped pool begs the Austin traveler to jump in.
Of all the hotels and motels in Austin, this small but enduring gem qualifies for best accommodation value in the city.
Updated and renovated while remaining true to their heritage. It's not chic. Nor is it trendy. Not luxurious.
With the grace and charm of times past, it's honest, picturesque and grows on you.
The San Jose Hotel, which is next door, is a better choice if you're traveling with a pet. But make no mistake, you pay for chic, hipness and minimalism.
The Austin Motel is void of such pretentions and it shows in a rate comparison and staff attitude check.
I've stayed here several times. I found the old original rooms claustrophobic, but cheap.
Take my advice, get the largest room your budget allows. You just may find you spend more time at this old fashioned, nostalgic hotel than you originally planned.
Great for families, couples, business or vacation. I have no complaints and only praise for this original and proudly modest Austin landmark. View Larger Map LOCATION: 1220 S. Congress Ave.
Just about 10 miles from Austin Bergstrom International Airport. Within view of downtown and State Capitol Building. Within walking distance (really) to lots of downtown attractions and short cab or bus ride to everything else.
FROM THE AIRPORT:
Turn left (west) on Hwy. 71. Follow Hwy. 71 past IH-35 to S. Congress Ave. Turn right (north). A little over 2 miles on your left.
HOTEL FACILITIES:
The lobby is open 24 hours a day with coffee and tea and fax services. Local calls are free. Wireless Internet available on motel grounds. Parking is free.
Outdoor pool is surrounded by lots of greenery. It's deep so it stays cool all summer. Open 8 am to 11 pm year round.
DINING:
The El Sol La Luna Restaurant (award winning, healthy, Mexican cuisine) is located on Austin Motel's grounds. They offer inexpensive breakfast, lunch and dinner.
ROOMS:
Cable and HBO in every room. All rooms have all new Sealy Executive Plush mattresses, very comfy. Check their web site to see what each room looks like, they're all different. MEETING/CONVENTION SPACE:
No. You can book a block of up to 15 rooms for say a wedding group. But they don't have meeting facilities.