Travel
AUSTIN TEXAS Best-Kept Secret Vacation Destination in USA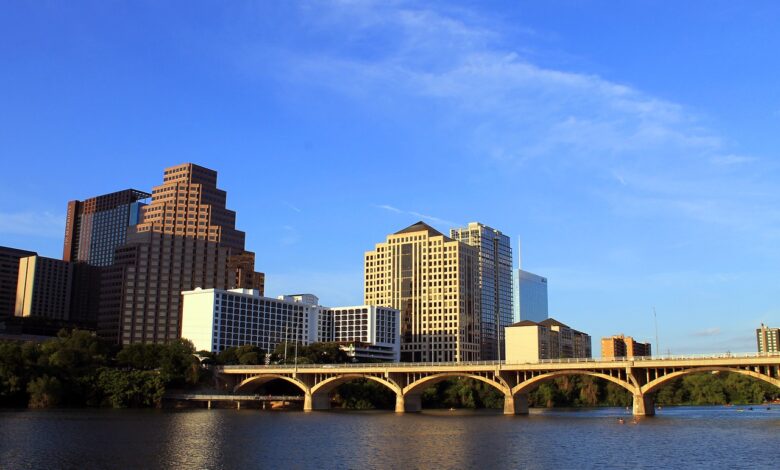 Austin, Texas is the Live Music Capital of the World. 74% of Austin visitors are Texas residents. This is where the "locals" go to relax, vacation and party.
National Geographic Traveler declares Austin the Best Little City In America. Texans know what the rest of America hasn't caught wind of yet… there's something for everyone in Austin, Texas.
Your Personal Tour
I'm Barbara Yarnell, a third generation Texan. I've lived in Austin for 25 years. For information about me and this web site, just click on the About Me button on the left.
Use this site for your travel information needs and to find things to do in Austin. I offer important information about air travel, Austin Bergstrom International Airport, best hotels and where to eat. Don't miss clubs and music festivals. Plus much more. I share everything I've learned and discovered about this oasis of nature and culture.
Austin, Texas is the gateway to the enchanted Texas Hill Country. An expansive region larger than Vermont.
Be my personal guest as we explore rolling emerald hills, pristine lakes and rivers that wind around and embrace the city.
Austin, Texas Outdoors
US Private Communities ranked Austin, Texas the #1 most environmentally friendly city. Outdoor activities are a passion here. CNN's Golf.com rates Austin the #1 Golf City in America.
golf
boating
camping
fishing
rock climbing
cave exploration
birding
horseback riding
hiking and biking
Discover the primitive beauty of the Wild Basin Preserve. Explore the Barton Creek Greenbelt from dawn till dusk.
Or, my favorite way to relax, bask in the warm sun on the lawn at Barton Springs Pool. A natural spring pool preserved as nature would have intended.
Six public golf courses, 47 public swimming pools and 108 tennis courts. Austin puts a high priority on outdoor activities. Our facilities are modern, clean and well kept.
Live Music Capital of the World
Sixth Street activity in Austin
Austin nightlife is legendary. Music is the living, breathing soul of the city. The most honest music in America is performed on over 200 stages seven nights a week in Austin, Texas.
The Broken Spoke offers fiddle-flaying, down home traditional country music and serves a chicken fried steak as big as your head. Internationally famous Antone's offers the biggest names in blues, but also an eclectic mix of rock, Cajun, rockabilly and world music.
From the old world charm of the One World Theatre, to the venerable and beloved Hole in the Wall. Austin, Texas deserves the title Live Music Capital of the World because it's undeniable fact. More about Austin Music here.
Celebrity Sightings
A fun part of Austin, Texas nightlife. Celebrity sightings are common here.
I've personally sighted, run over or bumped into Quentin Tarantino, Kurt Russell, Matthew McConaughey, Laura Dern, Tommy Lee Jones, Bruce Willis, Billy Bob Thornton, Ted Nugent, Willie Nelson, Steve Earle, Kinky Friedman, Dan Rather, Robert Rodriquez, Dennis Quad, Nolan Ryan. These folks wander around town, go to clubs and restaurants just like you and I.
We're a celebrity hot spot for many reasons. Major motion pictures are filmed here. MovieMaker magazine rated Austin, Texas Best Filming City.
Music draws celebrities as does our pristine environment. But the real reason celebrities flock here is because we leave them alone.
I stood shoulder to shoulder with Oscar award winning actor Forest Whitaker at a Joe Ely concert at the legendary Liberty Lunch (which is now closed).
Got stopped in front of the Paramount Theatre by Dennis Hopper, he asked for a light.
Had an interesting conversation with Sandra Bullock outside the ladies room at Saxon Pub.
Talked to Cesar Rosas of the Grammy award winning band, Los Lobos, at Stubb's Bar-B-Q. We talked about Mexican barbecue, called Barbacoa.
Shared a barbecue chicken with the late Bo Diddley at Texas' oldest dance hall in Gruene. (It's pronounced 'Green')
Sat next to Oscar Award winner Geoffrey Rush at Chuy's restaurant (Austin Barton Springs location).
Don't worry. You get used to it.
Lady Bird Lake hike and bike trail.
Austin, Texas Restaurants
The best barbecue joints in Texas. Who has the best ribs, chicken, sausage, brisket, pork chops, turkey, steak and prime rib.
Sink your teeth into the juiciest cheeseburger on the planet at Austin's landmark Dirty Martin's Place. Serving the same sinfully greasy, delicious burgers the same way since 1926.
The best prime rib to enter my mouth is served Sunday at the Salt Lick in Driftwood. Slow smoked over an open pit. Tender, juicy and big as Texas. The best meal I have eaten! Be warned though, the wait can get real long for a table, and they don't take reservations. I'll tell you how to avoid this disappointment.
Down home food is an art form here. Eat at Art'z Rib House for lunch and order the meat loaf. A local favorite and prime example of great home cooking.
Austin, Texas is a gastronomic thrill ride. That's why the Wall Street Journal proclaimed Austin the New Dining Destination.
Austin, Texas Shopping
Austin shopping is an adventure. From Mega Malls like Barton Creek and Lakeline, to the funky boutiques and shops on South Congress Avenue. Boots to books and everything in between. Austin's shopping is eclectic to the extreme. Or find comfort in the familiarity of one of our many manufacturer outlet malls.
Lady Bird Lake with Austin in background
Where To Stay
Your selection of accommodations include one of the finest hotels in the world; five star Four Seasons. Located on the beautiful Lady Bird Lake. A destination unto itself. Most romantic hotel I've ever stayed.
The funky, chic and minimalist San Jose is a favorite of film and music celebrities alike.
World Class Resorts
The best golf course in the entire state is located at Barton Creek Resort and Spa. One of the finest resorts in America.
Austin's world class resorts and spas include the Hyatt Regency Lost Pines Resort, Horseshoe Bay Marriott Resort Hotel, Lakeway Inn and Resort. Travel + Leisure magazine ranks Lake Austin Spa and Resort in the Top 5 in America.
Education & Culture
Austin, Texas is the undisputed Cultural Center of the Southwest. U.S. Census Bureau reported Austin, Texas is the fifth most educated city in America with 45% of the residents having a college degree.
The University of Texas is the crown jewel of Austin. UT sits on a picturesque 350 acre campus in the heart of downtown Austin, Texas.
50,000 students make UT the largest university in the entire Southwest.
UT boasts a nationally recognized academic curriculum in spite of a well deserved reputation as a party school.
UT football team takes the field at the Darrell K Royal-Texas Memorial Stadium
The Harry Ransom Center displays many of the worlds most valued and coveted artifacts including the world's first photograph and an original Gutenberg Bible.
Blanton Museum contains 17,000 examples of original art from the Renaissance to Contemporary. If you like art and paintings, Blanton is a must see.
The Bob Bullock Texas State History Museum is informative and entertaining. Great exhibits plus a state of the art Imax Theater.
Last, but not least, is the Grand Old Lady of State Capitol buildings.
Constructed of Texas' own Sunset Red Granite and standing 14 feet taller than the U.S. Capital in Washington, DC.
Ageless charm and modern convenience are gracefully combined in this magnificent mountain of flawless pink granite.
Austin Ballet, the Paramount Theatre, numerous art galleries, free concerts and a calender jam packed with interesting special events and unique and fun festivals.
Austin Film Festival, SXSW, Austin City Limits Music Festival, Eeyore's Birthday Party and the uniquely Austin, Spamorama give you an idea of the whimsy Austin has become famous for.
Steve Ray Vaughan memorial statue at Lady Bird Lake