Travel
Austin Travel Made Easy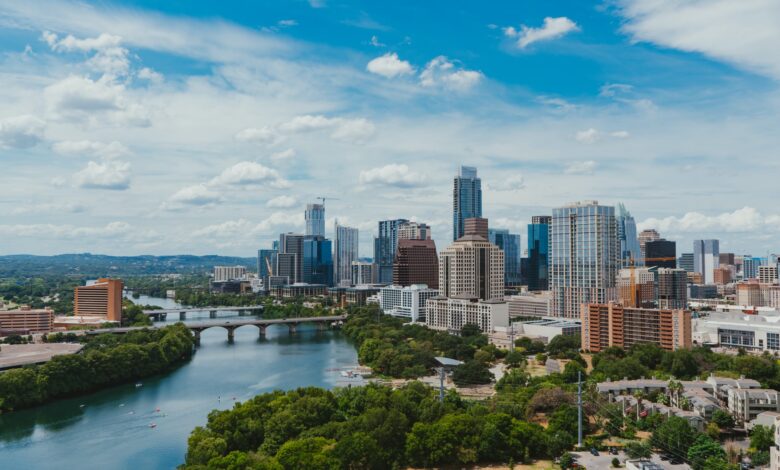 Whatever your Austin travel budget, find money saving, big bargain and big spender tips here.
One of my favorite travel tips is Kayak.com for travel arrangements.
It's free. They do the work for you, searching hundreds of travel sites for the lowest fares and last minute deals. For rates on airfare, car rental and hotel accommodations, Kayak gives you options. You pick the best available deals.
If you're traveling Austin on a limited budget, Kayak is highly recommended. Of course, compare quotes to other sites to insure the lowest rate. Austin Bergstrom International Airport has more than 35 nonstop flights (including international).
Austin Airport
Austin Bergstrom International Airport (ABIA) is consistently rated one of the best airports in the world for its size. It easily scores high in customer satisfaction, friendly airport parking attendants, best concessions and LIVE MUSIC!
Clean and convenient, the Austin airport is a revelation. Not an overstatement, but fact. ABIA has ultra modern convenience and small town atmosphere. It may be the most memorable and pleasant part of your air travel. Hotels and motels near the airport
For everything you need to know about the Austin airport click here, Austin Bergstrom International Airport. You'll find the following information… Airlines & Austin Airfare
– Download a list of defensive planning strategies that reduce cancellations and delays. It works. I use it. Security Checkpoint Wait Times
– Schedule your flight around most crowded times. Austin Airport Parking
– Why I recommend covered parking at twice the cost of an open lot. Off-site parking facility options. Ground Transportation
– Super Shuttle, cab rates, limousine services and Austin car rental companies. Business & Personal Services
– ATMs, United Heritage Credit Union, foreign currency exchange, Power Port computer stations and family viewing area. Food, Music & Fun
– Condenast.com rated Austin airport one of the best in US for airport dining. Barbeque, Tex Mex, coffee shops and sports bars. A live music stage with daily performances. Art Display
– Several serious art galleries and displays can be enjoyed throughout the entire airport. Gift Shops, News Stands & Concessions
– Food, news, artifacts, golf, CDs, gifts and more. Traffic
– Worst times, how to avoid it. Be prepared if you're caught in it. Get free map download here. Top Of Page
Austin Airport Super Shuttle
ABIA benefits from Super Shuttle service. It's an easy, convenient, low cost way to get to and from the airport from your home, office or hotel.
Super Shuttle is recognized in Austin for being on time and delivering professional service. They serve 28 airports in 23 cities and will reserve your door to door service from departure to arrival.
Great service and low cost make this a Top 10 Austin Tourism Pick.
General Aviation
General aviation is air traffic that is not military or a scheduled airline flight. Air charters, police aircraft, private planes, crop dusters, flight training, news and municipal aircraft are examples of general aviation.
If you have a Cessna, Beechcraft or a similar airplane, you can rejoice to the 389 general aviation airports in Texas. From little more than a cow pasture and barn to full service, full support, multiple runway, municipal airport. Every kind of airfield imaginable exists in Texas.
Fortunately the general aviation Austin, Texas airports are not of the cow-pasture variety. Besides ABIA, the Austin area also boasts these fine general aviation airports …
Killeen Airport
Gatesville Municipal Airport
Lampasas Municipal Airport
Georgetown Airport
San Marcos Municipal Airport
Gillespie County Airport
Burnett Municipal Airport
Llano Municipal Airport
Lakeway Airpark
An FBO (Fixed Base of Operations) is a service available at most airports that offers a minimum of fuel and parking for general aviation aircraft.
Many full service FBOs offer hangar storage, aircraft maintenance, ground services and more. Two FBOs are offered at ABIA. Atlantic Aviation and Signature Austin Flight Support.
Austin Car Rental
Unless you're staying downtown and have no desire to explore, the surrounding hill country, you need a car. This is Texas. Everything is ten miles away.
Austin travel options include economy compacts to exotic vintage sports cars. Whatever your desire, an Austin car rental exists that will fit your needs, budget and fantasies.
Austin car rental includes all the major companies represented at the Austin airport plus locations scattered throughout Austin.Including; Advantage, Alamo, Avis, Budget, Dollar, Enterprise, Hertz, National, Thrifty, Classe Rental (for exotics).
Austin Travel by Taxi
Sometimes you get a good one, sometimes you don't. Austin taxi cabs are a crap shoot. No Austin travel experience would be complete without at least one Austin cab ride.
Let's be frank about one of the things those Keep Austin Weird bumper stickers mean. When you call a cab in Austin it may never arrive. It doesn't matter if you give them ten days advance notice. Getting a cab in one of Austin's surrounding neighborhoods has become the stuff of legend.
Some of the cabbies are great. Others are cranky and some are genuine characters. Again a real crap shoot.
Cab service downtown, airport, UT and Capitol areas is good with an average 15 minute response time when they're not real busy. Cab service to outlying areas is another story. Westlake Hills, Oak Hill, Lakeway and the Arboretum areas are not known for having prompt response times if any at all.
Austin Travel on Low Cost Public Transportation
Capital Metro (Cap Metro) offers quality service at reasonable rates. An old time bargain.
Cap Metro provides 20 UT shuttle routes, 54 metro routes, 52 school and seven express routes. Cap Metro goes all over the city. Great coverage, routes and schedules for a municipal transit bus system.
The new Capital Metro Rail system has finally launched. Be sure and check out the new service. Dadnab
– Austin travel on Cap Metro using Dadnab to plan your bus schedule is a snap. Dadnab is a free text messaging service that plans your bus trip. No charge, FREE!! Big time Austin Tourism Tip.
It's simple. Text your location and where you want to go. They text back complete instructions; which bus to take, bus stop location, schedule times. It's amazing.
Dadnab is a great Austin travel tip. They've been nominated for 2008 Best Austin Business award. The Austin chapter of the Conference Of Minority Transportation Officials (COMTO) also honored Dadnab with the 2011 Small Business of the Year award.
Capital Metro and the City of Austin have partnered with AUSTIN CAR SHARE, a non-profit organization that offers a car sharing program. It's eco-friendly and can save you wads of cash to boot
Austin Travel by Limousine, Exotic Car & Party Bus
Austin tourism high end car rental in style.
Travel around Austin and the Texas Hill Country in a Hummer longer than your mother-in-law's last visit. Or be chauffeured around town in an immaculate vintage Rolls Royce Silver Cloud. You can even rent exotic autos with a large credit card deposit.
Austin car rental, limousines and party bus offer unequaled variety of transportation for every purpose imaginable.
Here are a few eclectic examples to choose from… AAA Limousine, Inc.
— Big plush Hummers, Escalades. Stretch for all occasions. Mixed reviews about service. Galleria Sedans & Limo Services
— Fans rave about service and reasonable cost. Enchanted Antique Limo's
— 1952 Bentley, 1956 Rolls Royce Silver Cloud, '50s T-bird, Lincolns and more. Rockin' Ride
— "Austin's premier party bus" is actually a gas if you have the right crowd that gets the '70s joke. Three buses, 18 to 25 passenger capacity. AA Charter
— Moderate cost auto charter service. Shuttles and door to door service. Antique Limousines of Austin
— 1937 Cadillac, 1963 Bentley, 1967 Rolls Royce… oh my! Clean Air Limo
— Eco friendly fleet of immaculate hybrid all stars like the Lexus RX400 or Mercedes E300D stretch limousine. Longhorn Limousine
— Lincoln Towncar to H2 Hummer stretch limousine. Reputation for great service and value for the buck. Classe Rental
— Unique rental service offering limo service, exotic car rentals and more.
Austin Travel in a Pedicab
Pedicabs are a carriage motored by a driver peddling a bicycle. Think of a horse and carriage with a bicycle replacing the horse and you get the idea.
Pedicabs are available every where downtown. Pedicabs are licensed by the city. Here's the best part. The drivers work for tips. That makes Pedicabs an Austin Tourism Best Bet. Pedicabs are readily available in all but the busiest of times.
They converge around the entertainment district. Red River, Sixth Street and the Warehouse district. It's fun, admittedly not for the impatient.
Pedicabs are a great alternative to taxis for a short distance. You can't beat the price. Service is friendly and courteous. It's fun. What's not to like?
Austin Travel by Horse and Carriage
Looking at the south end of a north bound horse is something I don't consider romantic. But the sound of horse hooves on the pavement in a slow plod while being kissed by a warm evening breeze… is romantic.
I love touring downtown Austin in an open horse drawn carriage. I do this a couple of times a year. Recommended.
Austin Travel with the Big Dog
You can reach Austin by bus from most any city in the US. Greyhound and its interline partners service the central Texas area.
Admittedly not the most comfortable, convenient or reliable form of travel but undoubtedly a downright travel bargain. Let me prove it.
Austin Travel by Train
Train travel to Austin for distances longer than a few hundred miles and you'll want to upgrade to a 'roomette.' Putting train travel more on par with airplane ticket prices. Depends on where you're coming from.
You get to Austin by train on Amtrak's Texas Eagle. Amtrak runs train lines that connect to Austin from virtually every major city in the USA.
Before you make reservations be sure to check out my Train Travel page for valuable tips on how to survive your train trip.
If you want to step back in time then a trip on the old Hill Country Flyer is in order. This old steam engine rolls through the scenic Texas Hill Country on recreational excursions.
Austin Travel by Motorcycle
Austin travel doesn't get any better than on motorcycle. No parking issues. Traffic is less of a problem and you won't eat up hundreds of dollars in gas.
My husband and I rode his Fat Boy all over the Hill Country before a back injury ended his riding days.
You can rent motorcycles and even Harley's in Austin for about $160 a day and up.
Find everything you need to know about motorcycle rental, favorite routes, destination routes, scenic routes, Texas highway rest stops, road conditions here, Motorcycle Travel.
Don't pass up the opportunity to travel Austin on a motorcycle. Our roads are long, scenic and clean.
My #1 recommended way to travel Austin… if you can ride a motorcycle that is. Bike riding can be dangerous for both beginner and accomplished rider. Use good sense.
Austin Travel by Car
Your first consideration is the cost of gas. If you get 20 miles to the gallon, and gas is $3.50 per gallon, you will pay $17.50 for every 100 miles or $175 for every thousand miles you travel in gas cost.
Now let's put that into Texas size perspective. Dalhart, in north Texas, to Brownsville in the south is 842 miles. Longer than the distance between Chicago and Texarkana, Texas.
Orange, Texas in the east is 834 miles from El Paso in the west. Longer than the distance from LA to El Paso and about the same distance as Chicago to NY.
Texas is big. Austin is 200 miles south of Dallas. Eighty miles north of San Antonio, 160 miles northwest of Houston and 570 east of El Paso.
Almost every mile is scenic. From the northern plains to the Piney Woods in the east. Central Texas' majestic Hill Country to the palm treed tropics of the southern valley.
You can see and do whatever you want when your Austin travel is by car. Texas Road Map provides more information on what there is to see and do along each of the following routes:
Austin travel from Dallas/Ft. Worth
Austin from Houston
Austin from El Paso
Austin from Amarillo
Here's my advice for Austin vacations – if you're planning to fly into town, definitely rent a car with unlimited mileage and bite the gas bullet. You're going to want to drive around.