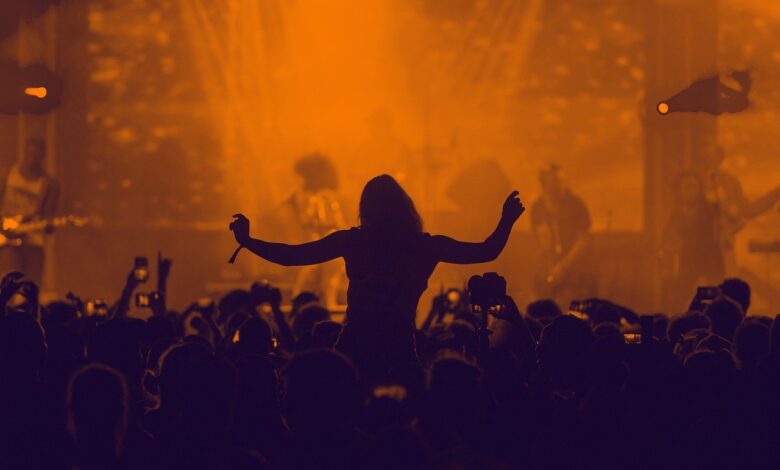 Austin music festivals the over 2,000 acts from over 50 different countries performing on over 90 different stages behemoth that is SXSW (South by Southwest), to the Old Settler's Music Festival which is like Golden Gate Park, San Francisco in 1967. You can bring the kids to this musical love fest.
You may want to think twice about stashing the kids in your Fat Boy saddlebags and heading to Austin for the Republic Of Texas Biker Rally (ROT Rally). Thousands of Harley's riding the Hill Country roads all day and partying at the Travis County Expo Center Main Stage or one of the four clubs till dawn. ROT is a non stop party. I've seen a lot of risque stuff go on here so I suggest you leave the youngsters at home.
Of course there's the Austin City Limits Festival (ACL Festival). Fans of Woodstock will love this outdoor multiple stage music in the park nostalgia. Real hot and a lot of people. Incendiary line up of performers. SXSW takes over the city. Hotels, restaurants, clubs, cabs, everything is at a premium. Local hotels book 31,442 room nights over the ten day film, music and interactive event.
SXSW is big. Internationally big. Real Big! Be ready for long lines and crowds in every restroom in the city. Complete chaos. Ground zero for planet Earth's biggest party. Plan Your Festivals
All Austin music festivals require far in advance reservations for hotel, car rental, air transportation. You can check the festival's web site for hotel packages and specials. For flight, hotel and car rental packages I recommend a little research to find your best deal. The following web sites DO NOT charge a booking fee. I've used 3 of them for my own personal use. Depending on needs and where you are traveling from, you'll have to see which one works best for you. Also note that Southwest Airlines does not partner with any of the online travel sites. To compare their travel packages with others, you have to go to their site. Personally, I've been very satisfied with Southwest Airlines web site and service.
Expedia
Expect parking issues at all Austin music festivals. For ACL and SXSW I stay at a downtown hotel. I walk, take cabs, use Cap Metro. This will cost you less in the long run and you won't need a designated driver. Austin police get real sportin' about drinking and driving during the festivals.
Parking at downtown locations vary in price and convenience to the clubs.
Many state and municipal parking lots offer free parking on evenings and weekends. Inexpensive covered parking is available for some evening and weekend shows at One American Center parking garage (located between Congress and Colorado on 7th Street).
There are many other private surface lots and garages in the downtown area that charge for daily and hourly parking. Some of these lots get real pricey during Austin music festivals while others remain reasonable. Here's three parking options for downtown.
Surface Lot – 600 Sabine – Evenings and weekends (512) 474-1530 Surface Lot – E. Seventh & San Jacinto – evenings and weekends (512) 474-6491 Garage – 107 W. Sixth – evenings and weekends (512) 463-5420 Parking Meters
We have 'em. If you want to park downtown it's a surface lot, garage, street parking meters or tow away risk.
Austin parking meters take MasterCard, Visa, debit cards or coins. Traffic Around Austin Music Festivals
Streets are blocked for Austin music festivals. Try driving down Congress Avenue with 20,000 Harley's lining the street. Traffic is a major issue for SXSW, ACL Festival and the ROT Rally.
The best way to beat the game – don't drive. Park at a mall and take a cab. Check on Cap Metro's shuttle locations. Do a search on their site for "special service" to see what is offered for your festival of choice. Many locations like Barton Springs Mall will have shuttle buses running to and from the festivals on a regular basis. Again, plan on parking the car and using the shuttle bus to get around during Austin music festivals. Crowds At Austin Music Festivals
You can't avoid them. But you can manage around them. Get to your selected venue early. Plan and expect a full house.
For SXSW consider the smaller venues where they can accommodate only a small crowd. For ACL, pick a side stage. Old Settler's Music Festival is no problem. Wallowing in the crowd is the whole point of the ROT Rally.
Avoid IH-35, do your north and south driving on MoPac, Lamar and Burnett. Do your east to west commutes on Martin Luther King, 183 (Research Blvd.) or Hwy. 290 (Ben White Blvd.).
The best time to eat is between 9:30 am to 11 am and 2:30 pm to 4 pm. Crowds pack popular restaurants like Chuy's on Barton Springs from opening to closing.
The crowd at SXSW is a mixed bag of music industry types, musicians, fans, young and old. This is a good group that's here for the music as much as the party.
Old Settler's Music Festival is an older crowd. Tamer music and a family environment that includes kids stuff like pony rides and a petting zoo.
ROT to me is a mixed bag of aging bikers and biker voyeurs. Most of these folks are very nice. Not intimidating at all. Motorcycle fans, pure and simple.
The ACL Festival draws all comers. From real music fans to event goers. Service At Austin Music Festivals
The squeaky wheel does not get the grease during our major Austin music festivals. Don't expect prompt anything and you won't be disappointed. Hotel, restaurant, club staffs do their best to be Austin friendly and courteous but during festivals all staffs are stretched to the limit and under full siege.
So if you run into stressed out, overburdened staff, don't let it ruin your good time. Try this. Show empathy. A simple comment like – "Wow, you look like you're catching hell," or, "How do you put up with all these jerks?" – transforms the most surly desk clerk into a helpful angel in most cases.
Be patient, allow ample time for valet parking, room service and wait staff.
I know many of these folks personally. Most work hard and really care. They are simply outnumbered during festivals.
Eats
Eating during SXSW can get frustrating. Many restaurants will have waits exceeding an hour and that's with reservations.
I recommend exploring Austin's many less known but still high quality eateries. High end restaurants like Ruth's Chris Steak House and Cibo are usually packed. Try Dirty Martin's (known locally as 'Dirty's') for burgers. It's on Guadalupe by UT. And Hoovers on Manor Road just east of IH-35.
These restaurants still get busy during festivals so you may want to call ahead and ask when is the best time to avoid crowds.
I also recommend Delaware Sub shops for a great take out sub sandwich. This is a local company with several locations around town. The downtown location is at 1104 W. 34th. For my taste, Delaware beats SUBWAY and Thundercloud Subs hands down. I like the Delaware Deluxe. Met Deon Sanders at the one in Oak Hill a couple years ago.
If you get a hankerin' for some good BBQ, check out some of these restaurants and BBQ joints here. Hotels
Almost every hotel in the city will raise rates during SXSW, ACL and ROT via a minimum night stay. Per night rates are reasonable, but three and four night minimums are not.
I recommend making reservations early. If you stay downtown, expect noise all night. Parties from the street spill over into the rooms and hotel management is usually quite lax in regard to room noise during music festivals. They expect it!
Here's a little secret. Try the Mountain Star Lodge in Lakeway (www.mountainstarlodge.com). Far from the crowd and noise of downtown. Nestled in the hills, clean rooms, great service and low rates. You can get a room or a whole house complete with two bedrooms/bathrooms, full kitchen and garage at a reasonable rate. Only drawback is a fifteen minute drive to downtown. Highly recommended.
For more hotel options click here. Dress & Weather At Austin Music Festivals
Dress in Austin is casual. All the time. My husband has worn a tie two times in 25 years we've made Austin home. Jeans, t-shirts and casual footwear is completely acceptable in 90% of Austin clubs and restaurants.
Of course you want to consider the weather when you dress. Summer requires you dress to stay cool. During Austin's winter months you may need a coat. It's very rare when our temperatures drop into the 30s.
For summer festivals, bring multiple changes of clothes. You will easily sweat through an outfit. Bring a hat, shades and sun block for your outdoor festivals.
Guys should consider a sport jacket if a four star restaurant is in your plans.
Austin weather can get dangerous in the summer. Use sun block and avoid direct sunlight for extended periods. Stay hydrated, drink lots of non alcoholic beverages. If you're in the heat and start to feel queezy, you're not drinking enough fluids. Sacrifice fashion for cotton cool.
Austin music festivals are best outdoors, in the summer, under a tree. Prime shade is at a premium and requires early claiming of space. Consider a blanket or folding chair for the ACL festival and Old Settler's Music Festival. I carry a folding chair in the trunk for any roadside music I find and watching my St. Edwards baseball games. There's critters in the grass that you want to avoid like red bugs (chiggers), fleas and our beloved fire ants. So bring a folding chair or at least a blanket. Tipping At Austin Music Festivals
Be generous. Be smart. Tip for good service – not because it's expected.
Pack your wallet or purse with ones, fives and tens. Makes it easier to pay in a busy club.
You'll get better service in a club if you pay after each round of drinks rather than running a tab. Pay with cash and not a credit card.
Leave a tip, not less than 10% of the cost for the round of drinks. Smart waitress and waiters will take care of you first because each trip is cash in hand.
It's no coincidence that the folks who complain about service are the same folks who don't tip. Demonstrate you are willing to reward good service and good service finds you.
I give the valet attendant $5 every time he gets my car. I don't tip for drop off.
Room cartage of luggage is $5 for one trip from the door to the room and vice versa.
I leave a minimum 10% for drinks at the clubs and 15% at the restaurants. Cabbies get 10%. Most are very friendly, helpful and courteous – tip is adjusted when they are not.
I've had folks approach me in parking lots seeking an "attendants tip" which I ignore. They probably don't even work for the lot! Also, you may be approached by a panhandler. It's your call, but I suggest you keep walking. If you're generous with one others seem to follow. Austin Music Festivals, Law & Common Sense
It's a mistake to believe that because the entire city is in party mode that local laws don't have to be observed.
The worst thing you can do that isn't called murder, rape or robbery is get behind the wheel of a car drunk. You will be stopped. You will be arrested. You will spend the night in jail and it will cost you between $5,000 and $15,000 plus at least community service if you're convicted on a felony drunk driving charge. It's not worth it.
It's a music festival – the police suspect EVERY driver.
I've witnessed folks being arrested during music festivals for a bunch of good reasons. Public urination, aggressive panhandling and fighting.
Use common sense. It it's illegal in your home town, it's probably illegal in Austin. Just because you're at a public party doesn't mean all the rules stop.
Also keep in mind that plain clothes cops and security are everywhere during Austin music festivals. So just because you don't see a cop doesn't mean a cop can't see you.
Austin police are professional. Will help you and can be counted on to keep Austin safe for our festival goers. If you need it, call 911 in an emergency and 411 for non emergency issues.